Apple Mail Privacy Protection Is About To Change Email Marketing: Here's How We're Preparing Your Business
August 9, 2021
By Andrew Donovan
For as long as Intrigue has offered email marketing services to our clients, we've reported on the open rates of their email marketing campaigns. Open rates — the number of contacts who open a specific email divided by the total number of contacts it was sent to — was long thought to be a staple in the reporting of email marketing campaigns across the industry. That is about to change.
This fall, Apple is going to shake up the email marketing world with the debut of their Mail Privacy Protection feature when they release iOS 15. This new release will mean that your once sought-after open rates will no longer be relevant.
Here's what that all that means, what we're doing to stay ahead of it for our clients, and why we think these updates are actually a good thing.
What is Apple Mail Privacy Protection?
This is how Apple describes Mail Privacy Protection:
"In the Mail app, Mail Privacy Protection stops senders from using invisible pixels to collect information about the user. The new feature helps users prevent senders from knowing when they open an email, and masks their IP address so it can't be linked to other online activity or used to determine their location."
The impact that has on your email campaigns isn't clear, so let me explain.
How will Mail Privacy Protection Affect My Email Marketing Campaigns?
This update means that every email sent to a contact will be marked as an open if they're using the Mail app to view their emails.
If you have 100 contacts and 24 of them are using the Mail app, right out of the gate, your open rates will be 24%.
Reporting on open rates after the global rollout of iOS 15 would be irresponsible of us — or any marketing company for that matter.
What Email Marketing Metrics Will 'Replace' Open Rates?
Recently, Webbula interviewed eight of the brightest minds in email marketing and asked them all the same question:
"If you could only use two email metrics, which two would you use and why?"
Here are some of the answers they gave:
Read rate
Return on investment
Click rate
Conversion rate
Subscriber lifetime value
Inbox placement
And more…
While all those metrics are important, some are more important than others — especially to our clients.
What Email Marketing Metrics Will Intrigue Be Reporting On Going Forward?
E-commerce Clients: Return on Investment & Click Rate
If you're one of our clients who use email marketing to drive e-commerce sales, the two most important metrics for you will be click rate and return on investment.
Knowing how many people are clicking on your campaigns and making purchases after seeing one of your emails is far more valuable than knowing how many people opened your email.
Service-Based Clients: Click Rate & Conversion Rate
Many of our clients sell home services (e.g. HVAC, landscaping, home renovations, etc.), which makes measuring the return on investment difficult, given the inconsistent nature of assigning the sale of a $100,000 kitchen renovation to the sending of a specific email. Home service clients would be better off knowing how many people clicked while reading the email (click rate), and how many contacts converted on a specific call to action (conversion rate).
Wait, What's The Difference Between Click Rate And Conversion Rate?
Great question, reader!
Typically, an email newsletter has 2-5 buttons or links that can be clicked, ranging from blog posts to videos to getting a quote. If any of those buttons or links are clicked, that counts towards your click rate (Total number of clicks divided by the total number of contacts who were sent the email campaign).
A conversion rate is how many people acted on a specific call to action within your email. As an example, if the point of your email was to get people to book their spring cleaning, a conversion could be the total number of clicks on a "Contact us" call to action divided by the total number of contacts that were sent the email.
Should we worry about sending emails?
In a word…no.
In fact, I'm going to recommend we do just the opposite and rejoice!
Open rates were always a vanity metric. They looked pretty and were easy to understand, but they never really meant much. Who cares how many people open your email when what really matters is who engaged with your email and led to a sale.
Moreover, this move to increased privacy isn't new, a fad, or going away anytime soon. In fact, in January 2021, our conversion team wrote a blog called "What You Need to Know About Apple's iOS 14 Release". iOS14 introduced privacy measures to Facebook ads that made it much harder for businesses to track the actions and data of those interacting with their ads.
As with anything, there'll be a learning curve.
Once again, we'll probably hear claims that email marketing is dead.
Email died with the advent of social media.
Email died when marketers were to obtain consent before sending emails to contacts.
Email died due to oversaturation.
Yet here we are.
We live in a world whereby these "deaths" have helped the ROI on email marketing continue to be the highest in the digital marketing world at 35:1 for companies with fewer than 100 employees.
In the words of Matt Damon in the Oscar nominated film Good Will Hunting: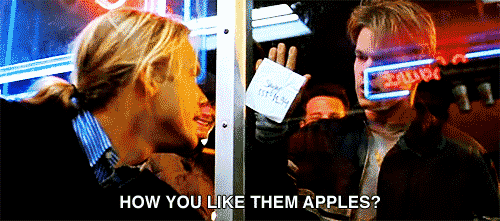 If you have any questions about iOS 15, Mail Privacy Protection updates, and how we're adapting, or if you think email marketing would make a great addition to your digital marketing strategy, don't hesitate to get in touch with us — we're here to help.